The Country Voice Advertising Magazine
The Country Voice Magazine has been launched with the simple aim to publish a high quality, glossy, full colour magazine to be distributed to the beautiful rural villages of South Leicestershire.
With a robust circulation of over 10,000 copies every fortnight we cover more of the Leicestershire countryside than any other local advertising magazine.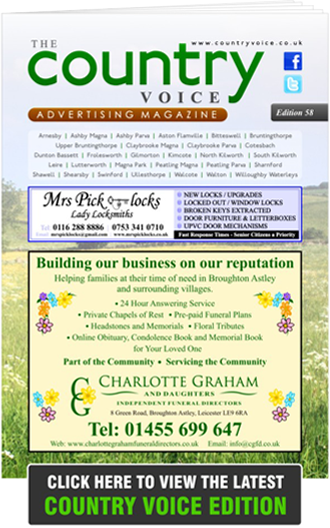 Please feel free to have a look at our Distribution Areas, to see the vast coverage of The Country Voice.
Another aim we are proud to have achieved is keeping advertising prices as competitive as possible.
Our pricing starts from as little as £22.50, with discounts of up to 25% off for a block booking.
We also offer a Leaflet Distribution Service to compliment our magazine. We can design, print and deliver your leaflet alongside The Country Voice to any of the areas we cover.
Please feel free to Contact Us should you require any further information.
We look forward to hearing from you!